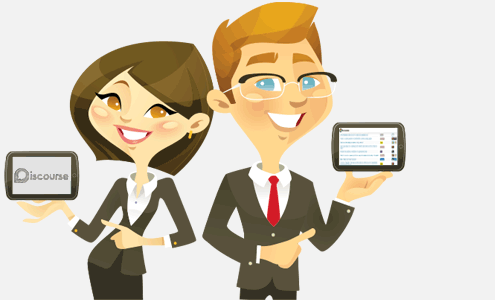 Cloud-Based
Discourse Hosting
Online within 5 minutes
Get your own forum, completely running in the cloud.
Either on our subdomain or on your own domain.
Safe, secure and simple.
Set up your own Discourse forum in under 5 minutes
We take care of of the technology, so you can focus on your community.

Flexible
Click and Go
Quick and easy installation for everyone:
No IT skills required.
Size as you Grow
Plans for small and large communities.
E-mail Support
We'll help you out!

Managed
Automatic Backups
We backup your data on a daily basis.
Regular Updates
Software updated to the latest version.
Always Online
Reliable managed hosting: 99.9% uptime.

5 Minute Installation
Choose your plan
Safe and secure payment.
Free Trial!
Choose your desired forum hostname
yourname.discoursehosting.net or
a hostname in your own domain.
Enjoy your own Discourse forum!
Your forum will be available instantly.